jointpop press
---
December 4th, 2002.
Source : Trinidad Guardian
Antipop sets Tasca Latina on fire
By GILLIAN MOORE RAMESAR
It was a great night for music at Tasca Latina last Saturday night, when Antipop threw its first anniversary party.
Almost 200 Antipop patrons, not having seen bands in this forum for the past several weeks, turned out. The good vibe was palpable — despite a small fire in the men's restroom —as the crowd revelled in the music.
Atheleny started things off, playing songs like its popular "Buss Dem Chains" featuring speech poet Andre "Fredlocks" Rajnauth and several new tracks. The band, known for its transcendental electronica (computerised music tracks programmed by Corey Wallace, under live instrumentation by Wallace on bass and John Hussain on electric guitar) had modified its sound. Its new material was more melodic and more vocal-oriented, with a broader appeal.
Jointpop was next, featuring the return of Wallace on bass, with drummer Gerard Rajkumar, guitarist Damon Homer and lead singer and guitarist Gary Hector. The band played a sublime set and the audience was sold — cheering and singing along all the way to its rocking, somewhat bluesy sound.
Something of an exodus ensued after Jointpop had finished playing. But the two-thirds who were left were treated to an excellent performance by 12, who followed, fusing reggae, funk, kaiso and rapso. Lead singer Sheldon Holder's poignant, poetic lyrics and laid-back guitar strum have found a good groove with the addition of new members, drummer Roger Guerra and bassist Peter Noel (while retaining percussionist Valdez Brooks).
In between sets, DJs 3 Imaginary Boys kept the mood going with underground classic acts like the Clash, Morrissey and Radiohead.
Tripped and Falling's supporters let loose with the youthful punk band, turning most of the dance floor into their own private mosh pit. Lead singer Chad Affonso — backed by energetic performances by drummer Jonathan Otway, guitarist and vocalist Barry Bibby and bassist Wilhelm Nothnagel — at one point ascended a railing at the edge of the stage to shout down lyrics while holding onto the ceiling for support.
After the show had ended, diehards remained outside, talking over the performances of the night, perhaps Antipop's best ever.
On Saturday, Antipop will host a DJ party at Tasca Latina (women $20; men $30 and free drinks), featuring recorded music from local acts.
---
November 23rd, 2002.
Source : Trinidad Guardian
Jointpop fighting radio exile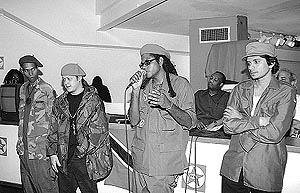 Radio war: Jointpop members (from left) Corey Wallace, Damon Homer, Gary Hector and Gerard Rajkumar stage a news conference on the need for local radio airplay at their video launch on Wednesday.
Photos: Anthony Harris
By Gillian Moore Ramesar
Jointpop came out fighting when they launched their new video on Wednesday evening, combining the screening with a hard-hitting news conference and mini-concert.
The launch took place at The Gallery 1234, Hotel Normandie, St Ann's.
Invitations for the event had said the dress code would be "militant style" and the band and some of the guests turned out wearing army greens, khakis and camouflage outfits.
The conference, which featured guest speakers as well as members of the band, focused on the problems musicians face in getting their work played on local radio.
Mistress of ceremonies, Wendy Hector, introduced the panel: Kenny Phillips, acting president of the Recording Industry Association of Trinidad and Tobago (RIATT), Cristophe Grant, COTT president and media columnist BC Pires.
Phillips said out of 177,000 songs played on local radio in 2001, only 17,000 were by indigenous performers. Referring to RIATT's march calling for 50 per cent local radio content in 2000, he said he hoped his organisation would not be forced to march again because the level of frustration among musicians was so high, he feared there would be "smoke and fire" the next time.
Grant said despite this county's having "talent to throw away", we have neglected to develop the entertainment industry, disregarding its significant earning potential. He gave a telling breakdown of foreign-to-local music for several stations, most of which did not exceed 10 per cent indigenous content, even during Carnival.
Pires lamented the fact that jointpop, which he felt is artistically superior, was still shut out due to the local radio scenario. He said he had never been in favour of quotas but would support them now, as they seem the only way "excellent music" such as jointpop's, "which ought not to need them," can receive airplay.
Then, clad in full guerrilla-styled fatigues, jointpop came on.
Lead singer Gary Hector said he had been playing music for approximately 20 years and had got to a point where: "We don't care."
However, he said their focus would remain on their music.
"They can't cut off our heads; they can't cut out our hearts. We not picking up arms, we're picking up our guitars, our mouths, and doing what we have to do."
Drummer Gerard Rajkumar seconded the sentiments of the previous speakers, while bassist Corey Wallace and guitarist Damon Homer appealed to patriotism.
"Support Trinidad; it can't be so hard. Find some love in your heart for Trinidad and everything will be fine," Homer said.
Then it was time for the video.
Several TV monitors dispersed around the crowded gallery came on, to the tune of "The New Fastfood In Town", off the band's new CD Exile, Baby.
Produced by an enigmatic outfit called Wolfclan (who, during the screening, wore full-length, hooded "Death" robes to hide their identities), the video featured animated versions of jointpop members taking on a towering corporate villain with a radio for a head. It borrows from Japanese Anime and features computer game/Matrix-style fight scenes.
Jointpop followed with a short set, which included "Not For Sale", "I Hate Entertainment" and "Lost In Space (Port-of-Spain Style)".
Jointpop will perform tonight at Jenz in Carlton Centre, San Fernando along with The Astral Garden and Cobolized.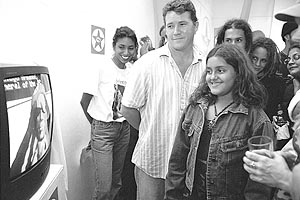 Ten-year-old Rainbow Hector smiles as she views an animated version of her father, jointpop lead singer Gary Hector, at the launch of the video for "New Fastfood In Town".
---
November 20th, 2002.
Source : Trinidad Guardian
Jointpop are 'New Fast Food in Town'
By Gillian Moore - Ramesar
"THE New Fast Food in Town" will be launched this evening in St Ann's. But this time around, it's not a new multinational chicken joint.
"The New Fast Food...", is the name of the first video off jointpop's new album, Exile, Baby.
The album was successfully launched last month at the Little Carib Theatre. Both the show and the CD received favourable reviews.
Tonight, between 6.30 and 8.30 pm, the video, created by Wolfclan, will debut at the Gallery 1234 , Hotel Normandie.
The band — made up of lead singer/guitarist Gary Hector, drummer Gerard Rajkumar, lead guitarist Damon Homer and with bassist Corey Wallace (performing for the evening as Diego Armando, Intelligista, Ramoné and El Loco) — will do a short set and CDs will be on sale.
Admission is free and the dress code is "militant style".
Interested persons may call 625-5502 or e-mail jointpopfc@hotmail.com.
---
October 27th, 2002
Source : Trinidad Express (VOX)
Jointpop rocks the house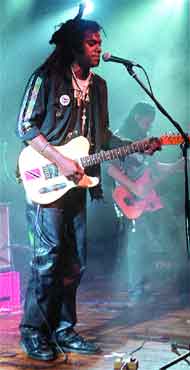 Now, doesn't that look like a rock star to you? Jointpop lead singer, Gary Hector performs before a packed house at the the Little Carib Theatre last weekend.
By Nigel Telesford
If you weren't present at The Little Carib Theatre last Saturday night, then there's no way I could possibly describe it to you. Sorry to disappoint, but really and truly, how could you expect a mere mortal to attempt to recreate the allure of a real, live, rock concert? How could the sight of this cultural monument jammed to capacity (mosh-pit and all) be realistically re-painted with just words? May William Shakespeare-himself return to this earthly plane for the specific purpose of teaching me how one should incorporate the incomparable sound of 300-plus rock fans chanting their impatience for jointpop into text form?
The experience of last week's jointpop cd launch surpassed every single concert moment of recent vintage and was comparable only to the exclamation that echoed through the venue, when Machel (Montano) took out his "hose" to wet a crowd for the very first time. In Astral Garden, jointpop obtained the ideal supporting act: one that was good enough to set the tempo for their performance and gracious enough to lend their energy to the crowd that came out to support the main act. Rock-lovers (male and female alike) filled the benches, the aisles, the steps, the wings, the lobby and the very air itself with the unconditional love and longing that only a mother could feel for her offspring.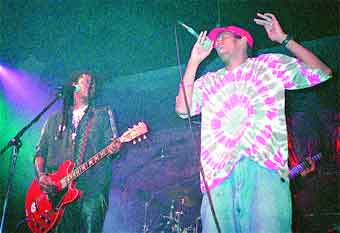 Rapso artiste, Ataklan and Hector make magic on-stage during their live rendition of "La Belle Rosette" at the Little Carib Theatre. The exhilarating collaboration of these two rock and rapso greats is featured on the band's latest CD offering, exile, baby. Photos: JERMAINE CRUICKSHANK AND NIGEL TELESFORD
In this case however, the assembly was held in support of Exile, baby—the group's second full-length cd album—and from all appearances, it's already well on its way to becoming their most successful effort to date. Smoke, lights, guitars, drums and all, only served to illuminate the reality of jointpop's existence; to validate their presence in a country where genres other than calypso and soca are forced to be considered as mere hobbies for those talented enough to express them. Collaborations with Mike Ross ("I never promised you a clothes garden"), Kathy Ella ("The Great Pop Swindle") and finally Ataklan on "La Belle Rosette" proved to be exhilarating live and in living colour and oh my, the performance with Ataklan resulted in a wonderful blend of two true Trini souls resplendent in the fulfilment of their musical destiny.
No, they haven't paid us to endorse it and yes, you should go buy the album. Not just get a copy of it, but actually seek it out in your favourite record store and buy the bloody thing. jointpop's authenticism is too potent to be denied. The rumours have just been confirmed: there are, in fact, real, live rock-stars right here in Trinidad. Rock on dudes!
---
October 23rd, 2002.
Source : Trinidad Guardian
'Exile, Baby' gets them high

By GILLIAN MOORE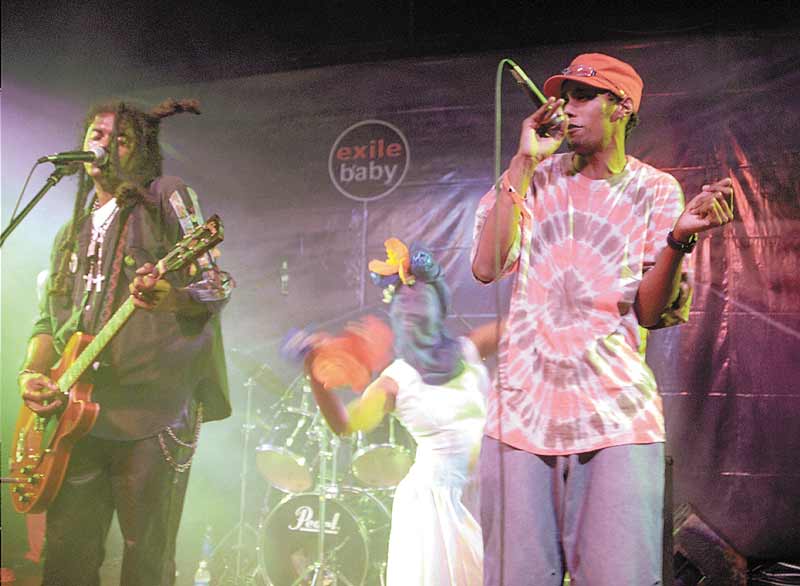 photo by David Wears

SOMEWHERE during the course of Saturday night's Exile, Baby CD launch, it became clear that this show was not some "local band" just "trying a ting"; the audience were not supporting because they may have been friends with members of the band. The enjoyment of the audience was palpable - they moved and were moved together, like revellers in a jouvert band. Maybe it was a case of preaching to the converted, but jointpop had the crowd eating out of their hands. The Little Carib Theatre was abuzz well before the scheduled start, as patrons had been invited to lime from 8 pm. A monitor in the foyer showed looped images of the band's videos and stage performances, including their appearance at the World Beat concert in 1999. Inside, the DJ warmed up the room with selections from the Beatles.

A little after nine, before a packed house, the show started. Opening act, The Astral Garden, was formed only this year, so for many in the audience it would be their first time hearing them. They more than held their own, playing five original selections - three off their recently-released CD. After the intermission, it was time to bring on jointpop: Gerard Rajkumar on drums, Damon Homer on lead guitar, Corey Wallace filling in for Graham Granger on bass and frontman Gary Hector on guitar and lead vocals. Things got started on a theatrical note with the entrance of a drunken "bride" (Danielle Galt) who staggered on to make a call at an on-set phone booth. The visual motif echoed the cover photo of the new CD. Tension ran high early on, but after a couple of glitches, the band settled into a set that some patrons described as their best ever. Some audience members, unable to sit, filled the "mosh pit" at the front.

As jointpop played their way through tracks like "The New Fastfood in Town", the title track and "I Hate Entertainment", the music seemed to intensify and the audience became more and more wrapped up in it. Homer's guitar has become more and more important to jointpop's sound. Radiant and mellifluous, it is a beautiful noise. Rajkumar's drumming was fiery and flawlessly tight. Wallace's buoyant bass fit seamlessly in, standing out especially on "La Belle Rosette". Hector made it all look easy. His delivery was at times earnest and emotional, and elsewhere stridently urgent, but always compelling. They took the audience to church for "Harde Bapre", a prayer-song that, when they played it that night, was a religious experience, from the looks on some faces in the audience.

Two tracks off Port of Spain Style, jointpop's first album, "Lost in Space" and "Urgent", got roughed up Exile-style, in keeping with the band's evolved, harder sound. The result was less melodic but much more intense, an interesting experiment that came off well. Guest artists who appear on the CD also put in appearances, each adding his/her personality to the set. For "The Great Pop Swindle" Cathy Ella came on in a psychadelic pink go-go outfit and feather boa, and put down some bonafide vocals. Her voice was strong and sweet, complimenting Hector's grittier tone. Mikey Ross returned to add falsetto flourishes on "I Never Promised You a Clothes Garden". Ataklan joined the band for "La Belle Rosette", during which a masked, ghostly dancer (Sonja Dumas) swept ontage. The rapso star's chipping chant took turns with Hector's singing and was an excellent fit for the song's soca swing. The audience thrilled to it, especially when the two vocal styles danced together. Even Andre Tanker (who, although he does not appear on Exile, lent stark, nostalgic sweetness to Port of Spain Style) stepped onstage during "122345-544321" - a real "leh-go", head-banger of a tune, to take a transcendental turn on his harmonica. The crowd, already spellbound, went crazy. For an encore, jointpop chose their best-known song, "After Half Past Nine". Hector sang the ballad sitting cross-legged, centre stage for added poignancy.

It was a powerful end to a powerful show.
---
October 19th, 2002.
Source : Trinidad Guardian
jointpop calls for radio revolutiom
...as they launch new CD, 'Exile, Baby' tonight

By Gillian Moore

From 8 pm tonight, the Little Carib Theatre stage will vibrate with music, as jointpop launches their new CD Exile, Baby. The concert will feature guests Astral Garden, a look at their new video and a few surprises. jointpop took time out from rehearsal at Caribbean Sound Basin to express their feelings on the new work as well as the role of local radio in the country's music industry.

The band members, guitarist Damon Homer, drummer Gerard Rajkumar and lead singer Gary Hector are excited to be taking the stage, not having performed live for just over a year. They're paying special attention to this concert as it's their own brainchild, their own vision, not merely a paid gig. With bassist Graham Granger out of the country, Atheleny's Corey Wallace is doing the honours tonight. Interestingly, he filled in for Granger at the 1999 launch of Port of Spain Style, the band's first CD. Wallace was also the bassist for Hector's previous band, Oddfellows Local, so he feels right at home in jointpop's milieu. "Gary is my brother; we grew up in music together. You can't sever that connection," he said. He notes a shift in the band's sound, away from the Port of Spain Style sound: "Before, it was more textured, with room for the other instruments, the percussion, flute, sax. Those were good elements, but now the music has more force, more drive; it's got more energised. I think they've taken it further."

In addition to a stylistic change, Homer says the very process of recording Exile was "very different" from the first album: "The first was more of a "vibe"; this one has been more hard work." He explains: "The first recording evolved over a period of three years - writing the music, playing it and eventually coming to a point where we were ready. With this one, we only had a year and a half with all the songs, so it was a lot of condensed hard work. It was cooler because we recorded everything in one place, at one time. The first was recorded all over the place." He adds: "I'm really happy with the way it came out; I think we got the tone we wanted - an old, analog sound... very warm." Hector, too, felt the making of the new CD was challenging: "We were working with a producer for the first time, so we just locked back and played while he tried to pull the best out of us. "It was different from our normal way of operating; it wasn't just vibe, but vibe in a disciplined way. We were really looking for it."

With the work of creating and recording behind them, their concert tonight provides them with a nice plateau, a space to spread their wings before taking on the challenge of getting radio airplay for their CD. "We enjoy a decent relationship as far as the print media," says Hector. "We have several videos out on TV too," he adds. But radio has been another story. Aside from "underground" shows with loyal but smaller followings, such as 95.1FM's Total Local, mainstream radio has a track record of ignoring local offerings (with the exception of a chosen few during the Carnival months). Exponents of jazz, alternative, rock, or any music that falls outside of the stations' penchant for dub, hip hop and R&B, have had to continually struggle for exposure for their work.

Jointpop, despite being one of the most critically-acclaimed Trini-rock bands around, has been no exception. "People don't buy local music because they're not hearing it on the radio." says Wallace. "If they hear it playing, just like Puff Daddy and all these things, they'll eventually get to like it. It will become popular. Some stations argue that their chosen playlists are simply an effort to play what their listeners want. Rajkumar argues that the opposite is actually the case: "They create what people want to hear. "The fact that local CDs don't sell proves the point that radio should play more local music. They have the power to create the market. "Radio airplay is the first step in forming a recording industry, which we really do not have."
Hector adds: "Radio works on a repetition scene. If on a Thursday night we get to hear an Atheleny or a jointpop or a Cobolized on Raddie's (Total Local's Mikey Ross) programme, I have to wait seven days to hear that song again. And let's just say he decides not to put it in that hour, I have to wait 14 days, how can that click in my head? "Whereas, you're hearing their playlist (mainstream foreign music) repeated on the hour." Hector says he understands progammers who view radio as a business: "They have a point when they say 'I not in this to give you a taste, to help break allyuh." But he maintains: "They could have a cooler mentality, a more open feel toward people who are making music. "Before actual airplay, there are a lot of steps that come first. One of them is listening and I don't think they're doing that properly. Call the staff in and at least give it a hearing." He notes soca artistes share the same lament. "In their case, it's a problem of seasonal play and a case where it's only 10 songs on rotation. Its all party songs, and there are good party songs that don't get played if the singers are not well-connected." He reiterates: "It's an industry-wide thing; the whole mindset has to change first and everything else will come naturally. "It shouldn't even reach the point where we're looking at legislation, trying to force their hand. "You have to have some nationalistic pride about yourself. "It will happen eventually, though," Hector says, "once we stick with it."
At the Little Carib tonight, doors open at 8pm. Astral Garden goes on from 9; jointpop will follow with a set scheduled to end by 11.30pm. Admission costs $40 and CDs and T-shirts will be on sale.
---
October 10th, 2002.
Source : Trinidad Guardian
Jointpop out of exile, baby! - Band releases sophisticated new CD
The new sound hasn't lost its kaiso roots,
but embraces, interprets and generally messes with blues, funk, jazz, punk, rock and pop.
| | | |
| --- | --- | --- |
| | | |
| Cover of jointpop's latest CD, Exile Baby. CD photography by David Wears | | Jointpop songwriter, lead singer and guitarist Gary Hector, aka Mick Richardson. |
By GILLIAN MOORE RAMESAR
After keeping fans waiting during a production process that spanned more than a year, jointpop has finally released its new CD, Exile, Baby.
The wait was more than worth it.
When the band released its first album in 1999, Port-of-Spain Style, they raised the bar for original Trinidad music, presenting a sound that was truly local, while borrowing from some seminal international influences.
This time around, they've surpassed the sophistication of their previous underground classic, with an evolving sound that's harder-edged. Their new music still hasn't lost its kaiso roots, but embraces, interprets and generally messes with blues, funk, jazz, punk, rock and pop.
| | | |
| --- | --- | --- |
| | | |
| Damon Homer | Graham Granger | Drummer Gerard Rajkumar |
True to form, the band's music defies easy categorisation.
Exile, Baby was recorded at Caribbean Sound Basin with American producer Jake Smith on board and Sean Poland as sound engineer.
The album's sound has its genesis in the songwriting genius of frontman Gary Hector (who previously headed up Oddfellows Local in the early 90s).
Hector combines shades of David Rudder's lyricism, Shadow's dark humour and the Spoiler's sense of the ridiculous, with attitude to burn and a voice all his own. His stylish vocals at times strain with passion, ascend into an edgy falsetto, slide down into the molasses of its low register, and rumble and ramajay all over Exile, Baby's 11 tracks.
But Hector can't take all the credit; he's been lucky to have on his team drummer Gerard Rajkumar, guitarist Damon Homer and bassist Graham Granger, the core members of "jointpop FC" (football club), as they're fond of calling themselves, in part because they do actually sweat together.
On Exile each man handles his musical corner and none lets the ball drop.
This gifted group of musicians shares an intuitive musical closeness that is probably their greatest asset. Their performances here are seamless and tight.
Rajkumar's soul-shaking drums and Granger's heart-rooted bass create the perfect foundation to allow Homer's sparkling guitar and Hector's hypnotic fretplay and vocals to shine.
The band's experiences on international stages, such as Midem in Miami and the fabled cradle of punk, CBGB's in New York, also contributed to Exile, Baby's two major themes: one, balancing the quest for "fame" against artistic integrity within a seamy music industry; and two, the rejection of the prophet in his own country — in short, the quandary of a band as good as jointpop who don't get airplay on mainstream local radio.
At home they are sidelined by those who write off their sound as "rock". Outside audiences categorise them as exotic and Caribbean-sounding.
Thus they inhabit a musical no-man's land.
That would be reason enough to quit, if it weren't for their love for what they do. It's what's kept them together for more than six years.
Love has been enough.
Here's hoping more people get turned on to this band and to this country's musical underground, where creative expressions often put formulaic mainstream fare to shame.
If we welcome bands like jointpop home, maybe then fewer of our best talents will have to exist in exile, baby.
---
October 6th, 2002
Source : Trinidad Express (VOX)
Doing music their way, baby
Rock band releases its latest, Exile Baby
by Nigel Telesford
jointpop. Yeah, that's how it's spelled: all common letters. Got a problem with that? Too bad. They don't care, just so long as you know the name. Exile, Baby is another name that should be familiar to local rock fans, after all, they've only been talking about releasing their second album for over a year now.
"Yeah, well, yuh know how it does go in Trinidad," said lead vocalist, Gary Hector. "Artistes have to be managers and publicists and everything else in one. We doh have no setta sponsors an' ting, we're self-financed and while we wish the output could be more and more frequent, we could only do what time and space and limited funds permit. How it worked out is that all the pieces are finally in place and well, the music has been ready for a while now, but all the other elements had to be ready too."
On October 19, jointpop will host Exile, Baby—a "record-release concert"—at the Little Carib Theatre, corner White and Robert Streets, Woodbrook from 8 p.m. to midnight. The is the night when the four-member band promises to "put the album in concert form" and will be supported by guest act, The Astral Garden, in providing a healthy dose of local rock at its original best. As Hector declared matter-of-factly:
"We created it, yuh know, we made this music and now we're going on to actually live it out. We're starting a new set of work on the same music. Each live show, each performance is a manifestation of the music we made over the past year and more. It's a process that all true musicians go through and we've been going through, but with the new album out, it's opened up a new chapter in the book of jointpop."
Since the creation of their debut disc, Port of Spain Style in 2000, Hector, along with bassist Graham Granger; guitarist Damon Homer and drummer Gerard Rajkumar have been enjoying "the wonderful journey", more commonly identified as the trials of the underground. Like any other fledging act, they hope and dream of "the big break and the record deal and the commercial success", but jointpop isn't consumed by this ideal vision and they'd much rather be "free to create, than paid to simulate".
"From our inception," explained Hector, "we've been separated from the scenes. We will pop up here and there and anywhere and play, but generally we like to control our own scenes so there's no misunderstandings or misgivings. As far as the record deal's concerned, we place a lot more value on the work we're putting out now and the music we're making because we want to.
"A lot of people watch MTV and see these bands looking great and living it up and think that once you get the deal you're immediately transported to heaven. We did a little tour in New York after the first album and that exposed us to the reality of being amongst all the struggling bands and musicians out there. That life is real and that music is real—it could never be duplicated or substituted with the fodder that makes it to heavy rotation on TV and radio. The value of what we have not is much more than getting a half-assed deal fuh the label tuh tell you what kinda music tuh make."
A bit cynical perhaps? Well, it's certainly been said before and jointpop has heard just about everything and then some. At this stage of their lives and careers, they're long-accustomed to being fed promises from here to the Promised Land and they've heard (and experienced) all the classic industry tales of recurring disappointments.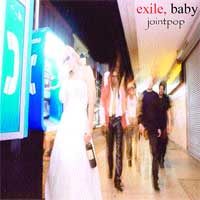 The cover of jointpop's newest CD, Exile Baby
"We're well aware of how the industry works," Hector said casually. "Right now, we're just about putting out the music and hoping for the best turn of events. We're looking to get more people out here interested in what we do, but success for us is just making the record. True artistes realise that sooner or later and if it wasn't for all the extra trimmings, true talent would know and be able to appreciate true success.
"But..." he sighed, with an air of melancholy. "These are the times we live in and music is big business, so when money's the focus and businessmen are in charge, the best buck-makers win over the best creators."
Exile, Baby refers to the band's current mind-state and state of affairs. On the one hand, there're in exile from local mainstream and corporate support because locals think their music is "too rock-heavy", while on the other, people in the US say they've got this "really heavy West Indian vibe". Caught in the crossfire of cultures, jointpop chose to respond with the upraised arms that held them and fed them for all these years: their own.
"This record is really one of circumstance," explained Hector. "It was born out of the trip to New York, where we entered the matrix and became part of the framework. We slipped into the groove of just another band hitting the clubs and representing ourselves and our home—in our case, this meant representing T&T all the way. The music deals with issues related to here; this is where we from yuh know, so we've got address what's relevant to us."
The 12-track CD features guests: Ataklan (on "La Belle Rosette"), Mike Ross (on "I never promised you a clothes Garden") and Kathy Ella (on "The Great Pop Swindle", which is set to be the first video release).
"They are all good friends," expounded Hector, " and artistes as well and we felt the need for some different voices here and there, so we just did it.
"Back to the concert man, I really have to go and pick up my daughter from school, yuh know how it is," said Hector. "The first live band coming on at 9 p.m. and we hoping to have everything wrapped up by 11.30 p.m. cause is the Theatre nah, so we hatta close off early. Everybody who interested—come through, take it in and we hope you enjoy it. If not, then enjoy hating it. Pick up a copy, give it to someone who cares and feel free to call we or e-mail or whatever and leh we know wuh yuh tink, scene?"
Exile, Baby will soon be available at all leading record stores and admission to the record-release concert is only $40, payable upon entry. For more information on jointpop, visit their website at www.jointpop.tripod.com, e-mail them at jointpopfc@hotmail.com or call Gary Hector at 685-3376.
---
September 5th, 2002
Source : Trinidad Guardian
Jointpop on 'Total Local' tonight
<![if !vml]>
<![endif]>
Jointpop lead singer Gary Hector (left) with Jake Smith, who produced the band's new CD, Exile Baby.
Photo by DAVID WEARS
Tonight's edition of Total Local, the weekly radio programme that shines the spotlight on original, local music, will feature a special guest appearance by members of jointpop.
The critically-acclaimed alternative band, performing together now for over six years, will preview songs from their long-awaited and soon-to-be-released CD Exile Baby.
They recently concluded production on the album, engineered by Sean Poland, at Caribbean Sound Basin.
Exile Baby follows their 1999 release, Port-of-Spain Style, and includes tracks made popular at their live performances, such as "Crack, Pitbull and Gun", "I Hate Entertainment", "New Fastfood in Town", and "Not for Sale", as well as the title track.
Members of jointpop are Gary Hector on vocals and guitar, Damon Homer on guitar, Graham Granger on bass and Gerard Rajkumar on drums. More information on the band is available at
http://jointpop.tripod.com
Total Local, hosted by Mikey Ross, airs from 10 to 11 pm on Radio 95.1 FM.
---
June 2001
Source: http://go.to/tribalnation
Launch of "The Filth and the Fury", Outer Limits, Maraval (Thursday 14th June, 2001) featuring bands Kager Karma and Jointpop.

Amidst the outflow of good vibes, opening act Kager Karma took the stage, only about 30 minutes after the prescribed time of 10:00 (great by any measure of local rock shows). This three piece outfit offered a not unheard of style of alternatively veined grungy rock with punk undertones all fronted by a female's vocals. Their major sonic attack definitely lay in their frontwoman's vocal prowess which varied from slow, heavily-vibratoed and sultry, like in their radio released "Chasing Fairytales", to schreechingly angst laden. Other original compositions such as "Faking It", "Lust" and "Heartbreak Surgery" followed their routine poppy style of two-riff, verse-chorus-verse, however, they definitely had a groove that night with well complemented and constructed bass lines to their guitar pieces. What was probably lacking in their offerings was their stage presence and individual movement, however this is not uncommon in new bands such as theirs. Altogether, they offer a sound! that's a must hear for fans of early '90's fox-core and chick rock.
After a 20 minute interval packed with underground tunes provided by the omni-present likes of DJ F#*! Off, the much anticipated host band, Jointpop appeared onstage with their dread locked, laidback frontman (and organizer of The Filth and the Fury) Gary Hector taking the spotlight as usual. Not much more can be said of this band whose localized, original flavour has taken the aspirations of the entire Trini rock scene to another level and indicative of this was the front area of the stage being populated majorly by band members of outfits like Orange Sky, Big Eyed Grieve, Transylvannia Zoo, Alexes Machine and Cobolized all grooving to the band's infectious sound. Opening up with a song from which the event was titled, and playing a set of all new compositions to be found on their upcoming CD "Exile Baby" such as "The Great Pop Swindle", "Not For Sale", "La Belle Rosette", "Exile Baby", "122345-544321" and "Hade Bapre", Jointpop commanded the attention of the entire audience present from beginning to end. As is expected, their 40 minute set was not enough for the crowd and they were forced to switch back on their guitars and do an encore of a mellow yellow song he introduced as "I Never Promised You a Clothes Garden" (wha Gary really on man?!?!). 100% Trini and never falling short of spiritually inspirational, Jointpop deserves to have their places distinguished in the houses of the holy Trini forefathers of music...
---
June 2001
THE FILTH AND THE FURY
The Rebuilding of our Underground
"No style of music can survive without a real underground scene. There must be an underground to provide local original Rock n' Roll bands the stage to perform in a total underground Rock n' Roll Environment.
Those are the words of Gary Hector, the man behind "The Filth and the Fury" the rebuilding of our underground, a weekly Thursday night experience at Club Limits in Royal Palm Plaza, Maraval.
Hector adds, "We have to get Rock n' Roll back in the hands of Rock and Rollers, because right now it's in the hands of people who simply don't care and don't understand anything about it. What we have right now is a watered down, big pappyshow, totally unreal version given to people who needs something REAL. There are even clubs who only hire cover bands……really, how progressive is that?!?
Thursday 16th June kicks off the series with live performances by jointpop with special guest Kager Karma.
Jointpop, presently adding the finishing touches to their much anticipated second album Exile Baby, will perform all the songs from the new record which includes Not for Sale, The Great Pop Swindle, La Belle Rosette, and 122345-544321. Members of the band are Damon Homer – Guitar, Graham Granger – Bass, Gerard Rajkumar – Drums and Gary Hector – Guitar and Vocals.
Kager Karma will kick start "The Filth and the Fury" from around 10:00 p.m., playing the songs from their present E.P. "Eat the Suits". Lead Singer/Guitarist Dana Mohammed wears her influences proudly on her sleeve(less). Brooding P.J. Harvey and Patti Smith stylings with genuine Punk Rock sensibilities, Kager Karma style. Colin Clarke (Bass) and Earl La Fond (Drums) complete the Trio.
Other bands scheduled to perform at "The Filth and the Fury" in the month of June includes, Headstrong Violence on the 21st and Gregory's Dream on the 28th. Fans can also look forward to radio interviews with the featured band on HOTT 93FM every Thursday morning. For more info log on to http://members.tripod.com/band_field/main.html and for bookings call Gary Hector @ 622-0100 only on Thursdays 4pm – 6pm or drop demo, photo and bio at the Club Outer Limits, Royal Palm Plaza, Maraval.
---
April 14, 2001
Local musicians gear up for Shaggy show
Associated Press
ROCKERS jointpop are just one of the top local acts on the bill for Easter Sunday's much-anticipated Shaggy concert.
The concert takes place at Mobs2, and tickets are reportedly selling as quickly as hot cross buns at all Pizza Boys outlets, and Caliente and Bluegrass stores.
Show producer Righteous Promotions International, promises "a fantastic show"from the most world's outstanding crossover reggae artiste in recent years. Shaggy, recent winner of a Grammy Award for Best Reggae Recording, is advertised to perform with his full band.
But, adding excitement to the production will be jointpop, taking off time from working on its second CD, Exile Baby, the follow up to Port-of-Spain Style.
The group has already spent a week at Caribbean Sound Basin, Long Circular, at work with acclaimed American producer Jake Smith on the new product.
Those who make the trek to the Chaguaramas concert can expect to be treated to jointpop performing tracks from the upcoming CD which is due for release at the end of May.
Also billed to open for Shaggy are Orange Sky, Ataklan, Ginger, Ken "Professor" Philmore, Sugar Daddy & Mello Mark.
With Damon Homer on guitar, jointpop also includes Graham Granger (bass); Gerard Rajkumar (drums); and, Gary Hector (vocals/guitar).
Exile Baby also features the much played "Little Giants," specially recorded in honour of the Trinidad and Tobago Football squad in its quest for a place at the Japan/Korea 2002 World Cup.
Producer Jake Smith, having worked with renowned acts like Tara Kemp and Gabrielle, hopes to fulfill a dream with jointpop, one which sees the local act receiving international acclaim and recognition in the not-too-distant future. He has described Exile Baby as "a classic."
Ataklan, born Mark Jiminez, another of the local acts on the Easter Sunday billing, has come a long way since his "Flambeau" days. But, Ataklan is still faithful to the sound he has always loved - rapso.
Not one to miss a beat, he is working on yet another CD, even while pushing the tracks from his Atavival release. This is Ataklan's 10th year as a professional performer.
He said: "I am just trying to grow as an artiste, to keep focussed and do the work and remain humble." Ataklan has actually been in touch with Shaggy before and is happy to have been included in the cast.
However, he is most proud of the local acts and said: "Shaggy is a nice guy and a great performer, don't get me wrong, but these local acts for me are the best. I have so much respect for guys like Gary (Hector) Nigel (Rojas) and Ken (Philmore)."
Ataklan says it will be an experience he hopes will stay with him for long time. "I just want share that vibe with those present. This will be a different event than has ever been staged.
"Not many people will have been exposed to so much variety before on one stage. I hope they come out to be part of this unique concert and hear all the different styles," he said.
About his scheduled 30 minutes on the same stage with one of the world's renowned performers, Ataklan said: "I'm planning a very special performance and I hope everything comes off well."
---
February 16, 2001
Source: Independent Newspaper
jointpop Support T & T 'Little Giants'
Leading local rock band jointpop has come to the support of the Trinidad and Tobago football team with the release of a football song titled "Little Giants".
The group consisting of vocalist Gary Hector, guitarist Damon Homer, bassist Graham Granger and drummer Gerard Rajkumar have put out $10,000 of their own money to boost the team's morale ahead of the World Cup qualifier against Jamaica on Ash Wednesday.
After coming up with the concept, jointpop took their material to south arranger Kenny Phillips to put a "football feel" to the song.
Call them superstitious, but jointpop lead singer Gary Hector says the band will not perform the song even once, until Trinidad & Tobago qualify for the World Cup.
Hector is a former football reporter for the Trinidad Guardian and a self confessed football fanatic.
When it have a match, I have no time to sing any song. Two hours before the match, I already in a mess and studying the result. The song is my part in supporting the team. Its just something we came up with. It's our way of doing our part to support the team. We just put out the music and whatever happens with it happens.
The song hinges on the hook line "Little axe cutting down big tree".
Hector came up with the concept after examining the composition of T & T's opponents. Trinidad & Tobago will compete against Honduras, Costa Rica, Jamaica, The United States and Mexico for one of three qualifying spots.
"All of these teams with the exception of Trinidad and Tobago have played in the World Cup. "They also have a bigger populace than we have" says Hector. "I think that we can beat them. They may be bigger than us, but we are little giants ourselves".
---
November 9, 1999
Source: Trinidad Express
Jointpop thrills at Mobs2

jointpop lead singer
Gary Hector
By GILLIAN MOORE

SATURDAY night's rainy weather put to rest any hopes for a massive turnout to jointpop's Live and Selfish concert.

But for the sizeable gathering that made it to Mobs2, Chaguaramas, the show, which launched jointpop's new CD Port of Spain Style, was worth a little wetting.

One jacket-clad audience member declared he didn't care about the weather; he knew he had to come to this show "come hell or high water".

The atmospheric, moody sounds of experimental band One opened the show, and featured some good electric guitar work.

Then came the main event, and the headliners did not disappoint.

The die-hard music fans who braved the rain were treated to jointpop's original sound, contemporary edgy and full of attitude, though holding onto the sweetness and innocence of old-time calypso.

From the first chords of Natalie Merchant's "Carnival", until the tassa drum-driven crescendo at the end, the band maintained a high level of energy, drawing the audience into the performance. Their sure musicianship created a professional sound, while lead singer Gary Hector's laid back wit made for an easy rapport with the crowd.

jointpop's set included "Urgent", "King Radio", "Bashment to Halloween" and their popular hit "After Half Past Nine".

Andre Tanker, who appears on several Port of Spain Style tracks, made a guest appearance. Even Hector's pre-teenage son had a turn on stage, rendering a convincing Kid Rock cover.

Live and Selfish" was a memorable concert, one which indicates good possibilities ahead for jointpop and for Trinidad music.
---
November 5, 1999
Source: Trinidad Express
jointpop gets 'Selfish' at Mobs2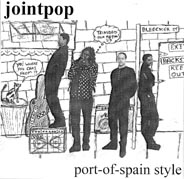 The cover of jointpop's CD, Port of Spain Style.
By GILLIAN MOORE

JOINTPOP'S recent performances, at the World Beat Festival's opening night for instance, have been short sets where they've shared the stage with other acts. But tomorrow night they go "Live and Selfish" when they launch their new CD Port of Spain Style at MOBS2.

"This is our show so we can do what we want" says lead singer Gary Hector. He is enjoying the "challenge of putting on a real show...doing something different".

While he is reluctant to use terms like "high concept" or "rock opera" it is clear that with an evening of jointpop's fresh, pop-oriented take on calypso music, along with new band One and other surprise guests in store, "Live and Selfish" is a musical event that is not to be missed.

Just back from a two-year absence from the local music scene, during which they wrote and recorded Port of Spain Style while touring Miami (September, 1997) and New York (June, 1999), jointpop realised few people in Trinidad knew who they were. They are eager, they say, to "let people know we exist".

At the same time, they want to avoid being "lumped" into any particular musical scene.

Hector says: "We just want to be known as a Trinidad music band."

The core members of jointpop- Hector (vocal and guitar), Damon Homer (guitar), Graham Granger (bass), Gerard Rajkumar (drums), along with Libert Carimbocas (sax, flute), Geary De Souza (percussion) and Corey Wallace (bass)- feel they've done well to keep it together for three and a half years.

When they take to the MOBS2 stage tomorrow night, they will perform songs off their new CD, including "King Radio", "After Half Past Nine", and the hilarious "Bashment to Halloween". This song tells how the singer attended a party all dressed for Halloween, only to discover that "fright night" had actually passed the week before. Nonetheless the "characters" he meets, including Dennis Rodman, Patra and Spice Girl look-alikes are funny and scary enough.

"Live and Selfish" will actually take place a week after Halloween (Hector swears the timing was accidental). But jointpop hopes that music lovers will not be too scared to embrace sounds that challenge, dissect and re-construct traditional forms of local music.

---
October 31, 1999
Source: Trinidad Express
port of spain style
A Review by BC PIRES
It's a long way from the steps of a San Fernando plannings to the stage of New York's CBGB's club, the Mecca of punk rock, but Gary Hector, lead singer of jointpop, completed the trip this summer.
Next Saturday night, when you go-and you must-to the launch of the band's excellent new CD, port of spain style, at MOBS2, Chaguaramas, consider that the dreadlocked Hector took his band to tour the Big Apple punk rock circuit purely on the strength of its music.
Hector was 20 years old before he heard his first rock LP and such music as he'd heard on local radio (Rod Stewart, Elton John, etc.) didn't prepare him for Blue Oyster Cult's 1981 album, Fire of Unknown Origin. A friend on his block lent him that LP, Black Sabbath's 1978 Never Say Die and the Rolling Stones' '81 album, Tattoo You. Keith Richards, the driving musical force behind the Stones, became and remains "by far, by far" Hector's favourite guitar player.
The influence of Jagger and Richards is undeniable in Hector's playing and songwriting but even a casual listener can hear a stronger connection to Andre Tanker, probably Trinidad's single most important artist since Tanker's own direct ancestor, the painter, Cazabon. Tanker plays on jointpop's CD (the haunting blues harp on the opening, eponymous track and again on "Bashment to Halloween", the best narrative song written since David Rudder's "Madness").
Tanker and Hector draw their music down from the same place, though Tanker may channel it through the Orishas and Hector through the Stones.
The jointpop sound is built on Hector's rock/calypso songwriting, Damon Homer's stinging lead guitar, the rhythm-rack drums and percussion of Gerard Rajkumar and Geary De Souza, the looping soca bass of Graham Granger and the wailing, old time Kaiso sax of Libert Carimbocas, who at age 56, is almost twice the age of the rest of the band. (The name of the band, by the way, is meant to reflect all types of music woven together-joined pop- and not an appreciation of marijuana.)
Carimbocas who plays the flute for Lara Brothers parang band, was recruited into the band because Hector knew the sax he wanted couldn't be played by someone younger. Carimbocas was not interested in playing the saxophone initially but consented to at least listen to one song. They played "Urgent" for him. Before the song was halfway through, Carimbocas left without saying a word. Ten minutes later, he was back with his sax and has remained since.
Like Tanker, Hector went away, left and came back home after seeing rock and roll on the streets of New York knowing that to play music that did not come from his Trinidadian heart would make him miserable. No fake American accents for him: he had to "do what he could do"; what he could do has turned out to be formidable.
Anyone who's seen it won't forget, Hector's first music video, "Little Miss Popular", recorded by Hector's first band, Oddfellows Local. The video, lovingly shot by Walt Lovelace on a shoestring budget on the back of a pick-up truck, could go into heavy rotation on MTV today. Lovelace also did the video of jointpop's best-known song, the old-time kaiso/modern rock ballad, "After 1/2 Past Nine".
The other nine tracks on the 46-minute CD (except possibly "Sawng") are as good as or better that "After 1/2 Past Nine". Only the idealist would deny that the CD would have been if more money were available, but a lot of inventiveness has come from that necessity. The eye-catching CD cover, for example, which would probably be described as post-industrialist on MTV, was done by Hector, by cutting up an Abigail Hadeed band photograph and gluing the individual figures to a ballpoint-pen hand drawing.
Jointpop has no agent, manager, record distributor or A&R man pardners. All they have is the music they will not tailor for anyone's market, a frontman with a look nearly as good as their sound and the most original songwriter Trinidad has produced since David Rudder; and that, really, ought to be enough. If it isn't, Hector comforts himself with a simple truth. "I played firetrucking CBGB's, man," he drawls, "and nobody can take that away from me. I good with that for a while."
Jointpop's new CD, port of spain style will be launched at the band's 75-minute Live and Selfish gig at MOBS2 on Saturday, November 6. CD's will be on sale for $100.00. Admission is $25. Opening act is the band One. Jointpop will play sometime after 1/2 past nine.