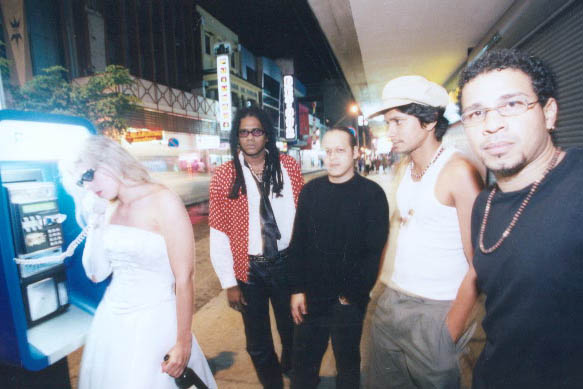 Welcome to the official jointpop site
version 2.0
Gary Hector_Vocals, Guitar
Damon Homer_Guitar
Gerard Rajukumar_Drums
Graham Granger_Bass
---
Anyone requiring CD's
can check all leading record stores
in Trinidad. Or just e-mail us at
and we will get one to you.
---
…. The wettest night of all of 1999, it seemed, 6 November, the night of "Live and Selfish", jointpop's first gig supporting the Port of Spain Style CD at MOBS2, an open-air venue.
But the rain did not keep away Andre Tanker, Trinidad's most important artist since Andre's own ancestral cousin, the painter, Cazabon. Andre was there, as a live guest performer, blowing blues harp on and extravagant romance into Port of Spain Style. I stood, swaying with the music, singing along with Gary Hector, "Trouble now/ Trouble now/ Trouble now/". In the corner of my eye I caught a famous misstep: David Rudder, too was there, in the audience, watching the boys of jointpop FC. I looked at Rudder, saw him looking at Hector, saw something flash between them, recognition, of course, but something more. And still Gary was singing, "Trouble now/ Trouble now/ Trouble now". As I opened my mouth to join in the next line: "Bacchanal/ Bacchanal/ Bacchanal", I saw the thing dance between Rudder and Hector and, on the spur of the moment, Gary glanced at Damon, then amended his vocal and the song to pay tribute to Rudder. The band caught on at once and slowed the song by the half-beat necessary to accommodate the change. Borrowing from Rudder's own song, "Bacchanal Woman", Gary Hector, without missing a note, sang, "Bacchanal One, ah-Bacchanal Two, ah-Bacchanal Three". Rudder smiled at him. He smiled back. Andre Tanker looked up, grinned, nodded, closed his eyes again and blew his harmonica. I stood there, caught in-between these great musicians and that great moment. Later on, Gary would tell me it was unrehearsed. I believed him, of course, because he is a natural, truthful spirit; but, until he told me, I would have sworn the band had practised that move from their song to Rudder's and back again all night. That moment said more, to me, about jointpop as a band, and the relationship between them and the great Trinidadian musicians before them, than anything else anyone else has said since. Including me, up to now…
~BC Pires
---

copyright © 2001.All rights reserved
LittLE 2 TunE Records
Best viewed @ 1024x768
This site uses Papyrus font......download it here. Save it in Windows Fonts folder.
site constructed and maintained by damon homer
e-mail : jointpopfc@hotmail.com